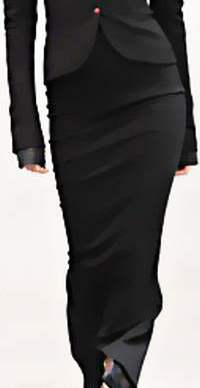 Womens Skirts
It's amazing how different they can be made to look by something as simple as changing the length, fit or fabric. They can look dramatically different just by the other pieces of clothing and accessories you choose to pair up with it.
A few basic silhouettes: straight, round and triangle and from these basic shapes comes in endless styles and designs. And, added to those styles are density of fabric and length and voila we have more styles then we know what to do with. So to make this easy, lets focus on the truly basic types. These basic types come in five styles. These styles are known by different names with some variations of styles.
The five styles are: A-line, Pencil, Circle, Pleated and Wrap. Let's explore the different ones and the best ones for your body type
Hobble Skirt
A hobble is probably the sexiest skirt around. It is a form fitting skirt that is very narrow at the hemline and usually lands somewhere between the lower part of your calf and your toes. A pencil is a later variation of the hobble . The hobble got its name because, women had to hobble in them.

.