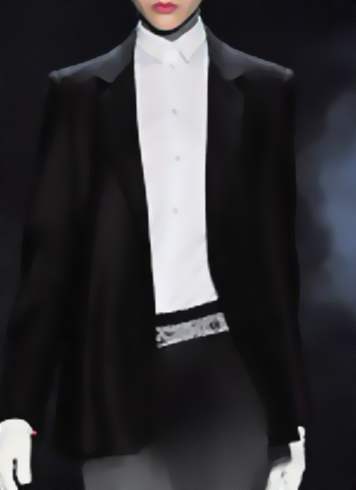 White Shirt
The white shirts is versatile. In fact is is one of the most versitile pieces of clothing you can own and I consider them a must for any women's wardrobe no matter her size or body type.
Like our beloved little black dress, you can dress them way up with a wonderful strand of pearls or an outrageous necklace from John Galliano. Hugo Boss, Theory, or Donna Karen.
I love a crisp shirt, particularly one that stays looking that way the whole day.
A basic shirt by Foxcroft is an excellent choice. They are well made and you don't have to iron them.
Just wash, dry and hang them up. Since I hate to iron, Foxcroft is really a great alternative. One thing to keep in mind is that some white shirts are too see-thru, so find one that isn't and have darts put in it.
Too much fabric around the middle can make you look heavy. If you have a few extra pounds on you, like I do sometimes, or if you are average to slim, too much fabric can make you look like you have a pin head. Either is unattractive.
Shirts are an excellent choice for their versatility. They can be worn alone or over a camisole, tank or t-shirt. They can also be worn as a light jacket in warm weather.