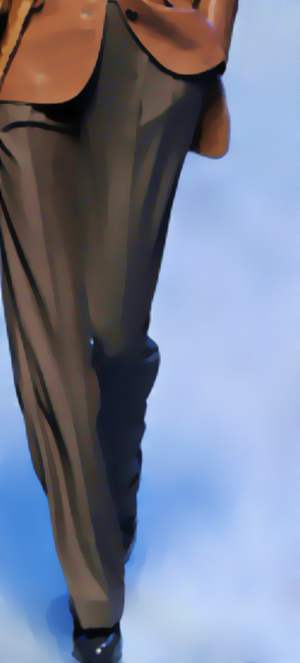 Pants
Pants can be challenging for many women to find. An intelligent person would think, of the many thousands produced one could easily find a great pair that fit.
Not on your life. Finding the perfect pair of trousers is like finding a needle in a haystack, darn near impossible. When you finally do, the manufacturer either changes their size structure, doesn't make that particular one anymore or has gone out of business.
So let's get some perspective and a tape measure.
How To Measure
We are all essentially the same: a waist, belly, hips, thighs and legs. The easiest way to measure for slacks is to put on a pair of your favorite slacks, then measure the following:
Rise, the seam of the crotch to the waistband. The rise is too high if it goes up beyond your natural waistline and pulls out or away. Even high waist pants should not pull away from your body.
Waist, or waistband: where you want the pants to sit.
Hips, measure the widest part.
Inseam is the least of my concern because hemming is the easiest of alterations.

The only time length becomes and issue is when you happen to be petite and you're looking for slacks with a bell at the end, or when there is intricate detail down the leg.
Keep in mind that if you don't like them to bind around the thighs, don't necessarily go up a size, look for a style where the pant legs are cut looser at the thigh.
If you're a size 8 and you put on 2 different style slacks in the same brand, one a slim leg and one a straight leg.
The slim leg will feel smaller then the straight leg. Why, because patterns are cut for the leg starting at the thigh line down.
Pockets are the focal point of your backside, so remember where there is detail your eyes will automatically go, so think carefully about what is on the pockets and where the pockets land.
Pants
Some of us live in them. In some ways they represent our independence as women.
Although women have worn trousers for industrial jobs in the late 1800s and later during the Second World War; it was not generally acceptable for women to wear them.
Movie stars of the golden era Marlene Dietrich and Katharine Hepburn were photographed wearing trousers, which helped, make them an acceptable garment for women.
It seems hard to believe that girls weren't allowed to wear them in school until title IX of the
Education Amendment of 1972 was passed. It made public educators treat males and females the same.
Trousers are an essential part of most women's wardrobes.
For many women, they have replaced dresses and skirts altogether
Fashion Tips
Something you should know. It is difficult to gage, but usually slacks with 3% or more Elastine, Lycra and Spandex will stretch out in about 1 hour of wear. They can stretch up to full size larger. These fibers can make clothing more comfortable and less restricting but they can also make it challenging to choose the right size.

When trying on pants with stretch in them, choose ones that are snug as apposed to just right. And yes you may have some whiskers, but they should go away after about an hour of wear.
Choose nude colored lingerie under white clothing. Wearing white lingerie shows through. Slacks should fit comfortably at the waist, hips and rise. You shouldn't see any whiskers at the crotch, though there are a few exceptions. The exceptions are women's slacks that contain more then 2% stretch.