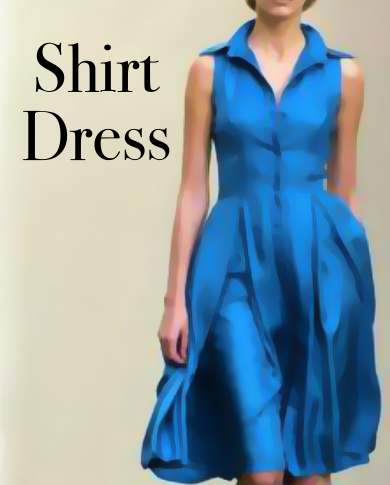 Shirt-Dress
What is a Shirt-Dress?
In a nutshell, it is a dress where any style of shirt or blouse is sewn to any style of skirt.
This is a really cool style for those who like this look.
The advantage with this dress is that it is really streamlined, just "slip and zip".
There is a lot of variety out there. Ralph Loren, Theory Clothing, Martin Grant and BCBG have
some version of this dress.
Fashion Tip
The trick to finding this dress is to go about it with the thought in mind that you are fitting a shirt with a skirt attached.



How to fit This Dress
Top Heavy women will probably have the most difficult time in finding a dress that fits well. So... if you are top heavy look for this kind of dress where the top is made of knit or a cotton with a lot of stretch.