Capes
I am always surprised how cool people look when wearing capes. When I'll see someone in a cape, I always think how stylish and pulled together they look,why don't more of us wear them?
They are made of a simple unstructured piece of material closed at the neck with some sort of fastener.
Wraps were one of the earliest garments used to protect humans from the elements. The Roman and Greeks used them for warmth as well as for blankets.
Hoods, armholes and pockets have been added over time. Cloaks, shawls, wraps and stoles are all variations of this loose fitting garment.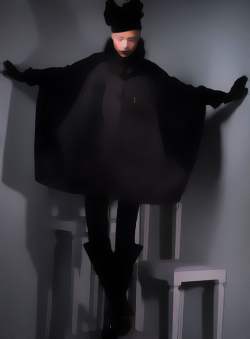 Cloaks And Ponchos
Cloaks
Cloaks are simply longer versions. Drama, secrecy and fantasy all surround the mystery of cloaks.
Cloaks are less restricting then its cousin and wearing one gives you the ability to make a grand entrance. Cloaks are sometimes the preferred garments to wear with ball gowns and other formal dresses.
Ponchos
Created by the Peruvians, ponchos are similar in that they are also a loose unstructured piece of material, except a hole or slit is made for the head to pass through.
They are then closed at the sides by buttons or other closures. Ponchos are used throughout South American countries and parts of the American southwest.