Fall Clothing: What's on this page
12 Essential Fall Pieces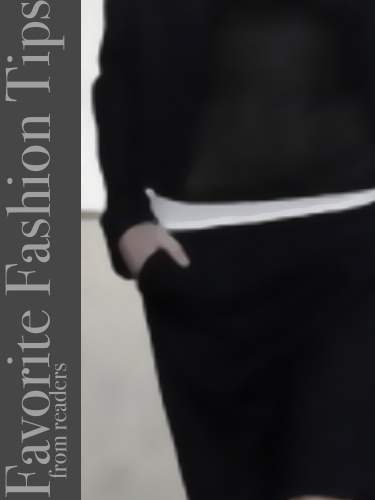 Fall Clothing 12 Essential
Here are my 12 essential pieces items to create my perfect Fall Wardrobe it would be the items listed below. They are classic pieces that travel well and look great on almost all body types including women with curves like me.
Suzi Chin's Maggy Boutique Bead Trim Ponte Knit Shift Dress in black. This dress is rayon and it's pleated so it's flattering for everyone and I love the beaded neckline.
Nexx Sash Wrap Blouse. This is my fall choice for the classic white blouse. It is a cotton/spandex blend and has ruffled trim around the v-neck and a sash on the side. It's very feminine and looks great with jeans, skirts, and trousers.
Classiques Entier Stretchy Pants in black/multi. Is a must for fall clothing.These pants are the best fitting pants ever! They are classic and have a straight leg. They look great with the sash blouse.
Not Your Daughter's Jeans, Tummy Tuck, Bootcut Stretch Jeans in black. These jeans are very slimming and have a lean boot-cut. They also flatten your tummy and help to lift your backside.
Free People April Camisole in white combo. This camisole has a sheer lace trim at the neckline and adjustable elastic straps and is a cotton blend. It's so cute and comfy and looks great with the stretch jeans.
Classiques Entier Subtle Crinkle Jacket in forest green. This is a cropped jacket made with a metallic thread and a luminous fabric. It's lovely and looks great with the cami and stretch jeans.
Ted Baker London Albiero Bow Trim Cardigan in navy. This is a slim cardigan and it has grosgrain bow accents that add a pretty touch.
Classiques Entier Ribbon Weave Skirt in pepper grass tonal. This is a classic pencil skirt with a back vent. The color is beautiful and it's a cotton/spandex blend. So it's comfortable.
Diane Von Furstenberg's Lepaire Blouse in navy. This is a woven cotton blouse with a curved hem and scoop neck. Looks great with the ribbon weave skirt.
Trouve Jenna Bootie in black. This is a lace up bootie with a peep toe and stacked heel. Looks great with everything.
M Z Wallace's Bea Satchel in black Bedford. I love this bag; it's lightweight and is stain and water resistant fabric with leather trim. Perfect bag for everyday.
Last but not least to finish my fall clothing list is: Nordstrom Block Party Stacking Stretch Bracelets in Silver. These bracelets have different sizes of beads and come 7 in a set. So you can were anywhere from 1-7 depending on your mood and since they stretch they' are very comfortable for everyone.
Shel, OH, 40's