Goth Fashion Designer
A.F. Vandevorst
Husband and wife team, An Vandevorst and Filip Arickx have designed clothing since 1991. They started their company in 1998.
The A.F. Vandevorst's gothic fashion is a women's ready to wear line . Known for their dualism style of soft layers and more structures deconstructed pieces.
Shirts and restyling of lingerie is fairly constant in the collections.
1991: An and Filip Graduated at the Fashion School of the Royal Academy of fine Arts Antwerp.
1991-1997: Filip is a freelance designer and stylist for magazine and TV. shows.
1998: They start their A.F. Vandevorst line and show in Paris.
1999-2006 they were busy with exhibitions' for a few Museums: New York, London and Antwerp, create costumes for the plays "Alice in Bed" "Vec Markopoulos", premiered their shoe line in Barcelona and launched their lingerie collection.
2008 celebrated their 10th anniversary.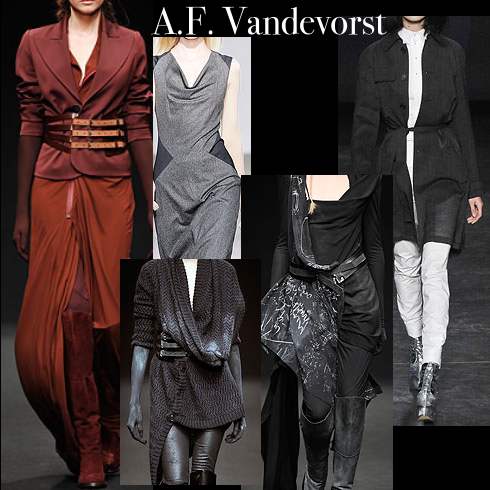 Fashion Designer Ann Demeulemeester
Tailored asymmetrical, draped, unstructured and definately a dark goth fashion , all come to mind when I think of Ann Demeulemeester clothing.
Ann Demeulemeester is a graduate from Antwerp's Royal Academy of Fine Arts in 1981. She is associated with what is dubbed as the "Antwerp Six" ( a group of Belgium designers, Dries van Noten, Walter Van Beirendonck, Dirk Bikkembergs , Dirk van Saene and Marina Yee ) these five other designers from Antwerp hoping to make it big in the fashion design world.
She was born in Belgium in 1958. She designed her first collection in 1988 1992 introduced her shoes and accessories at her first showing in Paris . 1996 she introduce her menswear collection alongside her women's collection in Paris.