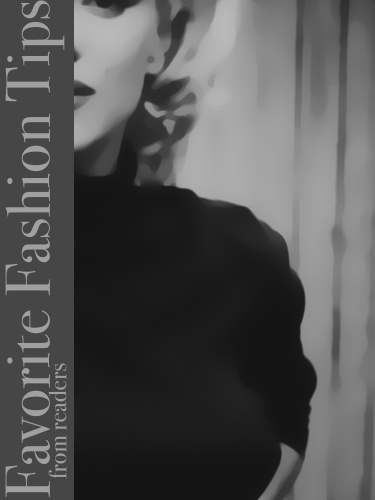 Plus Size Fashion Tips
Large Woman Over the years many have complained that there aren't enough clothing supply stores that cater to the full-bodied, full-figured woman of today. In recent years though that has changed. There are many more options out there, and here are a few tips for getting just that right look.
First fashion tip: Of all you need to measure the length of the shirts and pants you already wear. Sure, that T-shirt says 1X, but will it be too short for your stomach, or so long that you feel like your wearing a mini-dress? You can find a tape measure in any general merchandise store if you don't already own one, and then measure shirts from neckline to bottom, and pants from the top of the seam to the bottom. Also take into account how you wear your pants. Some people wear them on their hips, while others pull their pants up all the way to the ribs. So be sure to measure it next to you as well.
Second fashion tip for women is to find where your curve line is. It doesn't matter if you bought the most expensive dress in the store if it makes you look like a tube! The best curve line to highlight when choosing apparel is the one just above your hips. Find that perfect skirt or those perfect pants or shorts that come up to that area and rest comfortably.
Third tip is to color coordinate. This trick has worked for many years, but never goes out of fashion: prints and solids go together, solids and solids only go together if the colors are very different, and prints and prints don't work together at all. Black is slimming, but not the best choice in the summer because it absorbs heat.
The top colors that look good with any body type or skin tone are red, purple, blue, and white. There are many ways to accentuate your already beautiful appearance. Make-up in light amounts that highlights your eyes, skin, or even clothes can make you the belle of the ball. Just be sure to not over-do it. Many people see someone who wears too much make-up as someone who is desperate to hide their real face.
Jewelry is also a nice way to show off your best features. A person's arm can usually be an indicator of which jewelry will look best. For instance, a person with dainty fingers and long nails usually looks best in petite jewelry, whereas a person with a large wrist and strong fingers usually looks best in big gaudy jewelry.
No matter what your body type, there's a style out there for you. All you have to do is find it, and once you do then your look will transcend fad and shallow insecurities. Thank you for reading and all the best to you beautiful ladies out there